Isles of Scilly in £3.7m superfast broadband scheme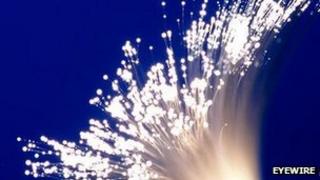 Superfast broadband is to be delivered to the Isles of Scilly in a "pioneering" £3.7m scheme by BT.
Unused fibre optic cables on the Atlantic sea bed will provide nearly 2,200 inhabitants with some of the "fastest broadband speeds in the UK".
BT said it was the most ambitious initiative of its kind ever to be undertaken in UK waters.
Nigel Ashcroft, from the Cornwall Development Company, said it would be "truly life-changing".
The project will divert superseded fibre optic cables, which have remained unused on the seabed for about three years, to all five of the inhabited islands located 28 miles off the south west of Cornwall.
Business benefits
BT is expecting that the first Scilly customers will be connected during the first half of 2014.
Until now residents have had to make do with a broadband service provided by a radio link between Lands End and the Islands.
Nigel Ashcroft, programme director of Superfast Cornwall for the Cornwall Development Company, said it would be "truly life-changing for businesses on the isles... opening the door to doing business in more markets across the world".
Ranulf Scarbrough, Superfast Cornwall programme director for BT, said bringing fibre broadband to the islands was "pioneering in every sense of the word".
Mr Scarborough said it was "excellent news that we are able to breathe new life into existing cables which are no longer used, but [are] still in very good condition".
The project is part of the £132m Superfast Cornwall initiative between the European Regional Development Fund, BT and Cornwall Council.