Royal Cornwall Hospital staff 'need more openness'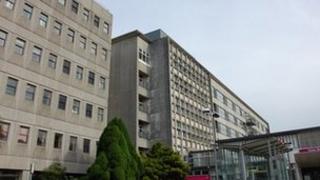 Hospital managers in Cornwall need to tackle problems with communication among staff to prevent failures in care, health watchdogs and lawyers say.
The recommendations have been made after the suspension of a surgeon over complaints about his practices.
Lawyers handling claims for patients said poor communication was the common factor in most negligence cases.
Dr Paul Upton, of the Royal Cornwall Hospitals Trust (RCHT), said staff were now more willing to talk.
Patients recalled
Five independent reports were published into the practice of surgeon Rob Jones following repeated complaints.
It was found that 52 patients suffered complications. A further 57 patients were recalled for assessment.
Mr Jones was suspended last May after a report from the Royal College of Obstetricians and Gynaecologists highlighted serious concerns.
It found his patients had more than five times the number of surgical complications during hysterectomy operations than would "usually be expected" in a consultant's career. Mr Jones has not commented on the case.
Last week Lezli Boswell, chief executive of the RCHT, apologised to former patients of Mr Jones saying they had suffered "pain and embarrassment".
'Openness' needed
Peter Price, whose wife Gloria had complications after a routine hysterectomy operation performed privately by Mr Jones at the Duchy Hospital in 2002, said: "There should be a simple way for concerns to be flagged up without placing that member of staff at risk."
Tim Goldburn, one of the lawyers handling the negligence claims, said there was a need for more "openness" between staff and management.
Roger Taylor, the director of research at the independent healthcare data analysts Doctor Foster, said: "When people do talk about issues very quickly the discussion falls apart from lack of evidence. We need to fix that."
The medical director at the trust, Dr Paul Upton, said that although more staff were talking to managers about their concerns, it took time to "change a culture".
He said: "What's happening is people are speaking out and we are listening and responding.
"There is a sense that we're moving in a positive direction. The culture is one of the last things that shifts."