Carbon monoxide deaths: Gas level '20 times fatal dose'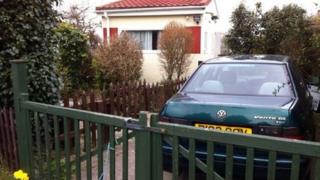 The amount of carbon monoxide (CO) recorded in a home where three family members died was 20 times the fatal dose, a fire service has said.
The bodies of John Cook, 90, his wife Audrey, 86, and their daughter Maureen, 46, were found in Cornwall on Saturday.
CO levels at the property in Tremarle Home Park, Camborne, were more than 10,000 parts per million (ppm).
Cornwall Fire and Rescue Service said they would have been "unconscious within minutes".
'Highest level'
Mark Pratten, from the service, said the level of gas in the mobile home had built up over a short period of time and it was the highest level he had seen.
Household CO monitors sound an alarm at 50 ppm, exposure to 500 ppm is fatal within hours.
All the homes at the park use gas for heating and cooking and inspectors are concentrating their efforts on the family's gas cooker.
The bodies were found after a worried carer called the emergency services.
The deaths are not being treated as suspicious.
CO is a colourless, odourless gas produced by the burning of fuels, including gas, oil, wood and coal. Inhaling it reduces the blood's ability to carry oxygen and can be fatal.