Cornwall Wave Hub progress 'lamentable'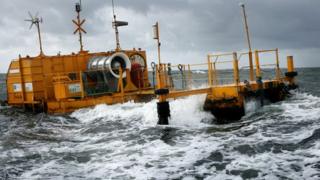 Business Secretary Vince Cable is facing calls for action on the £42m Wave Hub off the north Cornwall coast.
Cornish Nationalist politician Rob Simmons told Mr Cable progress on the energy project, unused since it was installed in 2010, was "lamentable".
The Wave Hub is an electric "socket" for testing wave energy machines.
But operators of Wave Hub said a firm is expected to be working with the device soon and further developments are expected.
Mr Simmons said in a letter to Mr Cable: "The Wave Hub project off the coast of Hayle was widely welcomed here in West Cornwall.
"In the past we were at the cutting edge of the last industrial revolution and everyone welcomed the idea we'd be again at the cutting edge of another revolution, this time in renewable energy.
"However, unlike Cornwall in the industrial revolution, Wave Hub has stalled."
He said people in the Hayle area were "struggling to get decent jobs" and Wave Hub could help.
"With this in mind it is disappointing that this huge investment has not yielded any substantial amount of long-term jobs."
Wave Hub Limited, which was created by the government to operate the device, said it was "delighted" Irish firm Ocean Energy Ltd (OEL) was expected to deploy a full-scale device at the hub.
It continued: "We are also looking to diversify use of the site by applying for consent to install a single floating offshore wind demonstrator.
"This would provide further opportunities for Cornwall as the offshore wind industry is more advanced than the embryonic wave energy sector."