'Financial tsunami' forced police officers to retire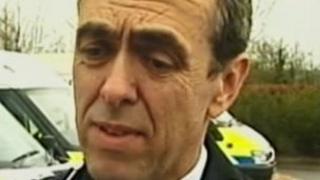 A tribunal has heard police officers from Devon and Cornwall were forced out of their jobs after 30 years of service by a "financial tsunami" triggered by a Government review.
Shaun Sawyer, chief constable at Devon and Cornwall Police, said they had "agonised" over the decision.
Five police forces are contesting test cases after hundreds of officers were forced out of their jobs.
The A19 clause allows for officers with 30 years' service to be forced out.
Five police forces - Nottinghamshire, North Wales, South Wales, West Midlands, and Devon and Cornwall - contest the allegations made at the Central London Employment Tribunal.
At the Devon and Cornwall force it was decided that 700 police officers and 350 members of police staff would have to lose their jobs.
Mr Sawyer, who was deputy chief constable of the force at the time, admitted A19 was "indirectly discriminatory" on grounds of age and that legal advice was taken to make sure its use was "justified".
Mr Sawyer described the move as "the least worst decision to make to deliver an efficient force".
He said the decision to use A19 was "agonised over as was the decision to reduce the number of police staff".
"Reducing the number of police officers went against every fibre of what was, for me, 25 years of policing.
"There was a financial tsunami facing public service and policing in particular."
A19 suspended
Under cross examination by Paul Gilroy QC, representing claimants from the Police Superintendents' Association, he admitted cost was a "significant part" of the decision-making process.
By autumn 2010, the force - then led by Stephen Otter - realised it would have to save at least £44m over the course of the next four years, following on from the Government's Comprehensive Spending Review (CSR).
"I am aware that the claimants contend that the rationale for A19 was solely or overwhelmingly a matter of finance," Mr Sawyer said in his statement.
"It is obvious that without the imposition of the CSR Devon and Cornwall Police would not have chosen to dramatically reduce its police officer and police staff numbers and profile so dramatically or so quickly."
Asked by Mr Gilroy if the force would have considered A19 if it had not been for the CSR, Mr Sawyer replied: "Absolutely not.
"Were it not for a £44m, later £49m, hole in the budget, we wouldn't have been making police officers leave the force in any way."
Devon and Cornwall Police made the decision last September to suspend the use of A19.