Rig drills for tin on Cornish farmland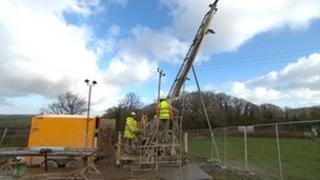 A mobile drilling rig is operating on farmland in mid-Cornwall in a bid to find tin.
London-based minerals firm Treliver said it was boring several holes reaching depths of hundreds of metres at the site near St Columb Major.
The company, which has bought local mineral rights, said it was planning to drill for two months initially.
If good tin is found, and the company decides to carry on operations, it could result in opencast mining.
Depth tests
Project geologist Alex King said: "It is still very early days, but we know we are drilling in a tin-mineralised area.
"The first holes are to test how deep the granite is and prove how much tin is here."
Each metre of drilling costs £100 but the rewards could be high, as the price of tin has been rising for the past six years, BBC South West Business Correspondent Neil Gallacher said.
Cornwall's last working tin mine, South Crofty, closed in 1998 after the price of tin hit an all-time low.
But last year, metal at Crofty was valued at $2.4bn (£1.5bn) in a report by the Celeste Copper Corporation which hopes to start mining at the site.
However, Treliver has two hurdles to cross, even if it decides to extract tin.
Environmental concerns
Paul Wheeler, from Camborne School of Mines, said getting a mine running would not be a quick or cheap process.
He said: "Five years would be a really short period to get any projects in; we may be looking at 10 years down the road.
"It depends how much money they want to throw at it, and how easy they will find the local community in terms of acceptance and planning."
Sue Cousa, who runs the nearby Springfields Fun Park and Pony Centre, said there were "mixed feelings" about the project in the area.
She said: "Some are welcoming the idea, and some are against it.
"There are concerns on a number of grounds, such as environmental, noise and traffic."