Mount Edgcumbe fears prompted by funding cut proposal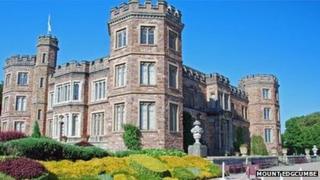 A proposed cut in funding for the Mount Edgcumbe country park estate in Cornwall has raised fears for its future.
The estate is owned by Cornwall Council and Plymouth City Council, and has more than 200,000 visitors a year.
Cornwall Council wants to reduce the annual £384,000 subsidy by £66,000 for the next three years.
Councillor Peter Smith from Plymouth City Council said the park would struggle to survive.
Mr Smith is co-chairman of the joint committee which runs Mount Edgcumbe.
"We've been looking at various ways to boost the estate's income which would allow us to reduce the subsidy such as putting up marquees for weddings, but it's still a work in progress," he said.
"We want to make the business plan work, so Plymouth left its budget alone.
"No mention of cuts was made at our last joint committee meeting, so I was stunned to hear what Cornwall planned - this has come out the blue."
The two councils bought the 865-acre Mount Edgcumbe estate, which includes a 16th Century house, in 1971.
Mr Smith said Mount Edgcumbe's subsidy was shared equally between the two councils and if Plymouth was forced to cut its contribution too, the management of the estate would suffer.
Plymouth City Council contributes £192,000 to subsidise the estate, which it said generates about £300,000 income a year.
Co-chair resignation
"I've asked our legal department to look at the implications, because if Mount Edgcumbe lost £132,000 it would struggle and it wouldn't be maintained the way it is now."
George Trubody, the joint committee's Cornish co-chairman resigned last week, but Cornwall Council said his decision had not been affected by the proposed subsidy cut.
Cornwall Council said it had to make savings of £30m in the next financial year and its proposal for Mount Edgcumbe was part of the authority's budget cuts.
However, the council stressed that no decision had yet been made and it would meet to decide on its budget on 26 February.
"The proposal is also subject to agreement with Plymouth City Council and Cornwall Council is now engaging with Plymouth City Council on the potential consequences of a reduction in the subsidy," a council spokesperson said.