'Devonwall' constituency proposal rejected by MPs
29 January 2013

From the section

Cornwall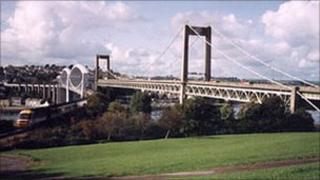 Plans to create a cross-border political constituency between Devon and Cornwall have been defeated in the House of Commons.
The so-called "Devonwall" proposals, to even-out constituency sizes, would have meant a cross-River Tamar seat.
MPs voted to delay a decision on redrawing boundaries across the UK until after the next election after a coalition split.
The Lib-Dems withdrew support after House of Lords reform was blocked.
'Important self-identity'
A Conservative attempt to revive the plans was rejected with a majority of 42.
Liberal Democrat Lord Robin Teverson, the former MEP for Cornwall and West Plymouth, said: "Cornwall has a very important self-identity.
"When a government tries to change that within a political context then frankly it doesn't work."
The proposal was to reduce the number of MPs across the country by 50 to 600, with each of them representing about 76,000 people.
The government had argued reducing the number of MPs would make the system fairer and less expensive.
Martyn Oates, the BBC's south west political reporter, said: "This amendment postpones it until 2018 at the earliest.
"It won't be affecting the boundaries on which the next election is fought. Anything could happen in the next parliament."
The plan for a "Devonwall" constituency sparked anger in both counties.
When the proposal was announced in 2010, about 500 people took part in a joint protest at the Tamar Bridge which joins Cornwall and Devon.