St Austell retail park plan 'has no soul'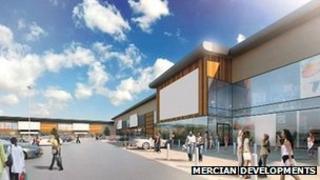 Retailers in a Cornish town have said a proposed retail park would "rip the heart out of the community".
Mercian Developments wants to use land at Coyte Farm, west of St Austell, for the £110m scheme, with shops including Marks and Spencer.
But those who are involved in the town centre said it would destroy the community and had "no soul".
Cornwall Council is yet to make a decision on the 100-acre (40-hectare) development.
'Out of scale'
Mercian Developments has outlined its intensions which include a petrol station and car park.
Chris Witt from the local Business Improvement District said: "It will rip the heart out of the community.
"A retail park doesn't have a church, annual festivals, the community that a town centre does, it doesn't have a soul.
"We're not anti-development, but we think this Coyte Farm is so out of scale."
The town already has a shopping centre, White River Place which opened in 2009, although some units are currently empty.
Mercian Developments said the available units were not big enough for the national retailers it hoped to attract.
It has proposed a bus service to operate between the town centre and Coyte Farm if the plans are approved.
Simon Hoare from the company said: "Around £100m of non-food shopping takes place by St Austell people outside of St Austell.
"So you need to have a significant floor space to bring in new, modern, national retailers who can't be accommodated in the town centre to provide a viable and an attractive alternative to both Truro and to Plymouth."
The plans can be seen on the Cornwall Council website.