Waterlogged runway halts Isles of Scilly flights from Land's End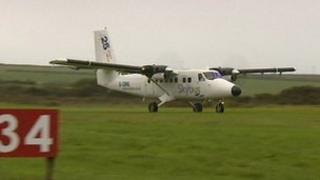 Flights to the Isles of Scilly are not flying from Land's End because of runway problems, an airline says.
Skybus passengers are being transported to Newquay Airport for services because of a waterlogged runway at Land's End, managers said.
However, Newquay Airport also saw disruption to flights on Tuesday morning because of low cloud over the islands.
The Land's End runway will be surveyed again on Wednesday, the company said.
Passengers have been advised to check in as normal.
Recent spells of prolonged heavy rain over the past several weeks have impacted on operations at Land's End.
The islands, which have a population of 2,200, have flights six days a week in good weather. A passenger ferry, the Scillonian, only runs in the summer.