Sailor Pete Goss to begin Tasmania kayak bid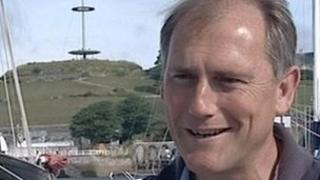 Sailor Pete Goss is due to begin his latest adventure, paddling a sea kayak around Tasmania.
Mr Goss, from Torpoint, Cornwall, said it would take two months to complete.
Previous challenges have seen Mr Goss sail more than 250,000 nautical miles (460,000 km).
Mr Goss is carrying out his latest expedition with Andy Warrender from Scotland who was a member of the first team to paddle the return trip to St Kilda from the Outer Hebrides.
The island state of Tasmania sits on the south east corner of Australia.
A third of its coastline faces the notorious Bass Strait and another third is directly exposed to the Southern Ocean.
'Beautiful island'
The strait is known to be very rough, with many ships lost there during the 19th Century.
Mr Goss, 51, said: "Many of my previous adventures have been non-stop and I have often wished I had the time to explore places properly.
"Tasmania is a beautiful island with a varied and exciting coastline. There can be no better way to get close to it than in a sea kayak."
Mr Goss received a Legion d'Honneur for saving fellow sailor Raphael Dinelli in the 1996 Vendee Globe solo around-the-world yacht race.
In 2008, Mr Goss sailed a replica of a 19th Century wooden lugger called The Spirit of Mystery from Cornwall to Australia.
The voyage was to re-enact a journey which took place back in 1854 when seven Cornishmen voyaged almost 12,000 miles from Newlyn to Melbourne in Australia.