Devon and Cornwall chief constable to be announced soon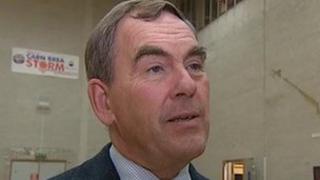 Devon and Cornwall's police and crime commissioner says he wants the "best possible candidate" to become chief constable.
Commissioner Tony Hogg, who was elected in November, said the role of chief constable was "pivotal" when it came to tackling crime in the region.
The force has been led by a temporary chief constable, Shaun Sawyer, since March.
Mr Hogg said the new chief constable would be announced in January.
'Strong strategic leader'
"I am conscious that other policing areas are conducting interviews and I want to get the best possible candidate for this area," he said.
The commissioner is responsible for setting strategic priorities while the chief constable is in charge of the day to day policing.
Nigel Rabbits, the chairman of the police federation, said: "A force needs a strong strategic leader because we have challenges ahead."
Devon and Cornwall police's new chief constable will be appointed by the middle of January.