Town and parish councils to run Cornish public toilets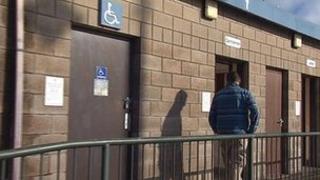 The future of some public toilets in Cornwall has been secured after local town and parish councils agreed to take over their running.
Earlier this year Cornwall Council said it had to review its non-statutory services because of funding cuts.
Local councils in Callington, Deviock, Downderry, Lerryn, Launceston and Seaton will take on the maintenance and cleaning of their public toilets.
Cornwall Council said without the agreements, some facilities would shut.
There are nearly 300 public toilets across the county, which have cost the council more than £1m a year just to clean.
As part of the new agreement, town and parish councils will receive a grant for the maintenance and cleaning costs and the unitary authority will carry out capital improvement works - including installing energy and water-saving measures to help cut future running costs.
Councillor John Pollard from Cornwall Council said: "The £170m cut in government funding meant that closing some toilets was a real possibility.
"I am pleased that some towns and parishes have agreed to work with us to introduce local control and management and by doing so protecting the toilets in their areas."
Mr Pollard said the council was also considering a community toilet scheme - where members of the public could access toilet facilities in public buildings and businesses.