Scissor death jury asked to consider manslaughter verdict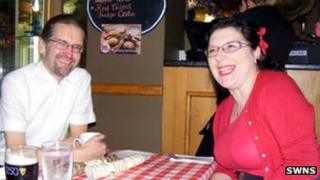 The jury in the case of a woman accused of killing her husband with a pair of scissors has been told to consider an alternative charge of manslaughter.
Sandra Clinch, 49, is alleged to have murdered Alan Clinch at their cottage in Cornwall on 13 May.
It is claimed she stabbed him with a pair of dress-making scissors.
Judge Graham Cottle told the jury to think about a charge of manslaughter on the grounds of diminished responsibility or a lack of intent.
'Personality disorder'
Mrs Clinch, of Caradon Heights, Darite, Liskeard, initially told a 999 call operator she thought she had just killed her husband, adding that she had "stabbed him" in the chest.
Truro Crown Court heard how the mother-of-five, who had been in a relationship with Mr Clinch since 2001, had repeatedly adapted details of her story to fit evidence, and changed her account of how she thought her husband had been fatally wounded.
Sending the jury out to consider its verdict, Judge Cottle asked them to consider whether Mrs Clinch, originally from Bedfordshire and who had later lived in Luton, had a personality disorder, and if this substantially impaired her ability to exercise her self-control on the day Mr Clinch died.
Mr Clinch, 48, who was described in court as a "quiet man" who often simply walked away from arguments, collapsed by the stairs of the couple's home in Darite.
Earlier the court had heard the pair had argued about tidying up the house before guests arrived.
Mrs Clinch said she had no intention to kill her husband, and said she thought he must have walked into the line of fire as she threw the pair of seldom-used dress-making shears.
Paul Dunkels QC, prosecuting, said: "It might have been a tragic accident, as the defendant said - Alan Clinch unwittingly stepped into the line of fire.
"If it was an accident, she's not guilty of murder. Our suggestion is that you could be sure she stabbed him with the scissors, intending to cause him serious harm."
Defending, Andrew Langdon QC urged the jury to consider every scrap of evidence.
He said: "Alan Clinch, seeing the volcano about to erupt, went to put his arm around her - what if a combination of those two things resulted in injury and what if she didn't mean to stab him in the chest?"
He also pointed to "nine cries for help" Mrs Clinch made during her life in which she said she sought medical help for her temper and the violent behaviour associated with her rages.
The trial continues.