Falmouth divers find camera during seabed rubbish clean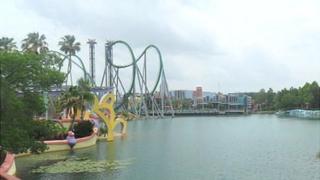 A digital camera with more than 800 family photographs has been found on the seabed off Cornwall.
It was among 30kg (66lb) of waste collected by a group of local divers carrying out an underwater beach clean off Falmouth.
Diver Mark Milburn said the photographs included a family holiday in Florida, a school concert and a sailing holiday on the Helford river in Cornwall.
Plastic bags, tin cans, golf balls and a mobile phone were also found.
The divers said the seas off Cornwall were among the most interesting in the country, but some of the rubbish was potentially dangerous to marine life and divers themselves.
"It's a big problem and everyone needs to do their little bit," Mr Milburn said.
"We find tin cans, but the bodies of the cans rot away leaving sharp edges that can cut your feet and big fish will swallow them thinking they're little fish because they're shiny."
Mr Milburn, who runs the Atlantic Scuba diving centre in Falmouth, said the camera found on the seabed was a black Samsung and when the memory card dried out, it still worked.
"It would be nice to return the card - and they can have the camera if they want - so at least they have their memories," Mr Milburn added.