ShelterBox founder's wife Jane Henderson dies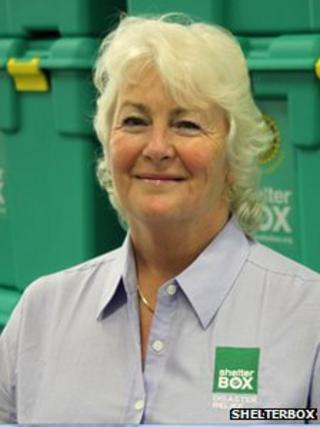 The wife of the founder of the Cornish-based charity ShelterBox has died.
The charity said 59-year-old Jane Henderson suffered a suspected heart attack and died on Friday.
ShelterBox, which delivers survival equipment in a big green box to disaster areas around the world, was the brain child of Tom Henderson OBE.
In 2010 Mrs Henderson, who also worked for the charity, gave the Duchess of Cornwall a tour of the ShelterBox headquarters in Helston.
As well as working in the warehouse loading the boxes with equipment such as sleeping bags, tent, cooking utensils, etc, Mrs Henderson also helped to raise awareness of the charity's work.
Her husband was recognised in the Queen's New Year Honours in 2010 for services to humanitarian aid.
John Leach, ShelterBox's chief executive, said the headquarters was closed for two days to allow staff to deal with the sudden loss of a woman described as "kind, generous and much loved".