St Dennis incinerator group loses Supreme Court appeal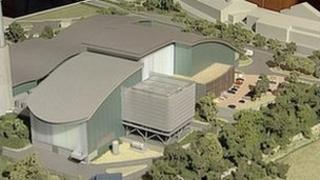 People campaigning against a new incinerator in Cornwall will not be able to take their fight to the highest court in the UK.
The £117m waste-to-energy plant at St Dennis was given the green light in March by the Court of Appeal.
But the St Dennis branch of Cornwall Waste Forum challenged the ruling which upheld the government's decision to grant planning permission.
Now the Supreme Court has refused an application for permission to appeal.
The forum had claimed the planning application process contravened the European Habitats Directive, but the Supreme Court refused to refer the case to the European Court of Justice.
Landfill pressure
Ken Rickard, chairman of the St Dennis forum, said in a statement: "In our opinion this decision proves that political and multinational lobbying is more effective than common law and democracy.
"This decision also smacks in the face of the government's localism bill."
He said no further comment would be made until the forum had discussed the matter with its legal representatives.
However, he added that on Wednesday the forum would present an "alternative plan to incineration" to Cornwall Council's waste development advisory panel, which would "result in savings to Cornish tax payers of £10m per annum".
Cornwall Council said: "While we recognise that some people will be unhappy at this judgement, it will enable the council to take action to tackle the waste issue facing Cornwall."
Cornwall produces about 300,000 tonnes of waste a year and, according to the council, the county is set to run out of landfill space by 2014.
The incinerator will be built by Sita UK, which a signed a 30-year-contract in 2006 to handle Cornwall's waste.
Since the plans were first proposed, opponents have argued the incinerator would be too big, in the wrong place and could cause health and conservation issues.