Metal price rise boost for Wheal Jane mining site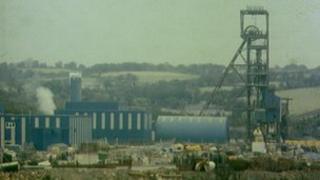 Specialist mining jobs in Cornwall are thriving once again thanks to a rise in metal prices.
Mining technology firms are flourishing on the former mining site of Wheal Jane, near Chacewater.
Mineral extraction at Wheal Jane, which had been worked for tin, copper, silver, zinc and arsenic since the 18th Century, ended in 1992.
Now, about 150 people are working above ground in areas such as mineral analysis.
Last year, the value of metals traded on the London Stock Exchange hit a new record of £9.5tn ($15.4tn), almost a third higher than a year earlier.
Wheal Jane is home to a host of mining and minerals companies, environmental consultants and mining related manufacturing.
They are here because Cornwall still has a world-class knowledge base from its own mining past and still produces mining graduates.
It is also a great brownfield site that can accommodate expanding businesses that want to work side by side.
At one of the consultancy firms based at Wheal Jane they are planning the next phase of exploration in a gold mine in Kazakhstan among other places.
One of the businesses, Wardell Armstrong, employs 55 people at the old mine site and plan to expand their premises shortly.
Nick Coppin, from the company, said: "We're not too subject to the problems in the UK economy, our business is mainly driven by the worldwide economy and the continuing demand for minerals, particularly from the Far East.
"Wherever minerals happen we're able to operate there and to provide advice to the mining industry."
Another consultancy expanding fast is SGS. Three years ago it had a team of five here but that has now grown to 13 and the company said it would be approaching 20 in another two years.
The company's manager, Nigel McDonald, worked at Wheal Jane mine itself.
He said: "The metal prices were very low at the time. I thought the whole site would have been green field by now."
Now Wheal Jane is home to nearly 150 workers - the size of a small mine workforce, and better qualified.
Across the River Tamar in Devon, meanwhile, an Australian company is planning to restart tungsten mining.
Wolf Minerals, which has secured £55m in bank loans - half the money required for its venture - hopes to begin mining the mineral at Hemerdon, on the edge of Plymouth, in 2014.