Five Islands School head teacher Bryce Wilby resigns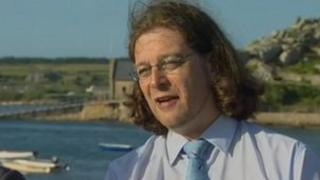 The head teacher of the only secondary school on the Isles of Scilly has resigned, the BBC has learned.
Bryce Wilby was suspended in May from the Five Islands School after "apparent financial irregularities" were found during a routine audit.
But Mr Wilby previously told the BBC he was confident any investigation would show he had done nothing wrong.
The Council of the Isles of Scilly said it had accepted Mr Wilby's decision to stand down.
Resignation 'a surprise'
The Church of England school has about 250 students and is controlled by the council, the islands' unitary authority.
When Mr Wilby was suspended, the council said "an issue" was being looked into and later said "financial irregularities" were being investigated, but added the issues were separate from the events surrounding the suspension.
Mr Wilby, who was head teacher for more than three years, said he was not told the reasons for his suspension.
Two school governors have also resigned since his suspension.
Council chairman Mike Hicks said Mr Wilby gave no reason for his leaving and the move had come "as a bit of a surprise".
He said: "There has been a lot of pressure and it is a shame."
Mr Hicks said there had been concerns that not all financial transactions had been recorded properly.
"There has been an inability to trace some money. The recording process is not as good as it might have been," he said.
The Audit Commission is investigating the situation.
Concern for students
Mr Hicks said he hoped that the commission's report would be finished soon, and that the allegations against Mr Wilby currently "remained allegations".
Since the resignation of the two governors, the school's governing board has been reduced to four.
Mr Hicks said the remaining governors had been supported by council officers under legal advice from neighbouring Cornwall Council.
"At every juncture, the proper procedures have been followed," Mr Hicks said.
"Our prime concern is the education of the children at the school."
The Duke and Duchess of Cornwall are due to visit and officially open the Five Islands School later.
Mr Wilby has not been available for further comment.