Skipper of missing Orinoco Flo 'gutted' to be rescued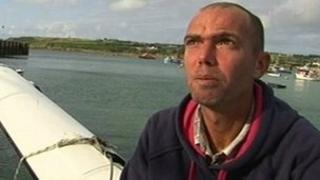 The skipper of a catamaran which disappeared for more than a week during a transatlantic race said he was "gutted" to have been rescued.
Matthew Gill's yacht Orinoco Flo was spotted by a rescue helicopter about 85 miles (137km) off the Isles of Scilly on Monday.
En route to Falmouth from Antigua, the missing yacht had been out of radio contact since 2 June.
Mr Gill told BBC News: "I had no chance of dying, I was going to make it home."
The single-handed skipper of the yacht lost his mast in bad weather about 850 miles (1,367km) out in the Atlantic.
He said: "I only had 80 miles left to go; so I was so, so close to doing it all under my own steam.
'No distress call'
"When the helicopter turned up, I thought, 'who the hell has called a helicopter for me? I didn't'.
"I had no chance of dying, I was making reasonable progress, incredibly slow, but I was going to make it home.
"It was only a question of taking a long time."
Mr Gill said he had been sailing along "quite happily" off the Isles of Scilly when a Royal Navy helicopter from RNAS Culdrose in Cornwall "came over the horizon and hovered above me".
"I turned the radio on and they were like, 'are you well? there's a distress call out for you', even though I had made no distress call myself."
The helicopter told Mr Gill that his radio had not been transmitting.
"I thought my radio was OK, but it wasn't. I could receive, but I couldn't transmit.
"They said St Mary's lifeboat had offered to come and pick me up, 'if you accept raise your left hand', so I raised my left hand."
Three hours later the lifeboat was dispatched and towed Mr Gill to safety. It took about 10 hours.
Ken Bazeley, from Falmouth Coastguard, said: "He would probably have continued if we hadn't rescued him but he was happy to take the tow and I think that was the right thing to do.
"He still had a fair old way to go, so he decided to accept the help of St Mary's lifeboat."
RNLI's Steve Watt said: "We launched the lifeboat, because there was a perceived danger to his life.
"He was in a disabled yacht in the Western Approaches, a busy shipping area, and on balance considered that he could have been in danger."
After refuelling on the Isles of Scilly, Mr Gill plans to travel on to Falmouth on Thursday.