South West storms: Crane frees St Mawes yacht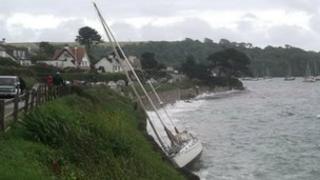 A crane has been used to free a yacht which drifted on to rocks in Cornwall during storm force winds.
The 40ft clipper, which is called the Ilona, ran aground at St Mawes on Thursday. No-one was aboard.
On Friday evening, during high tide, the yacht was lifted off the rocks by a crane.
It was then placed into deeper water and floated into St Mawes Harbour where the damage is currently being assessed, Falmouth Coastguard said.
Winds of up to 50mph (80km/h) battered parts of the South West during Thursday and Friday.