Funding request for Cornwall Stadium 'not taken forward'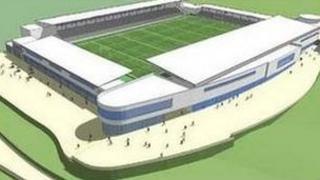 A request for £10m of public money to be used for a 10,000-seat stadium in Cornwall has been turned down.
Leader of Cornwall Council Alec Robertson said the cabinet had decided not to take the request forward.
Developers said the money was needed for the proposed £24m stadium at Threemilestone as it was unable to proceed solely as a private initiative.
Cornwall Community Stadium Ltd (CCS) said it was unable to make an immediate comment on the decision.
Mr Robertson wrote to CCS, the private consortium behind the project which consists of Inox Group, Truro & Penwith College and the Cornish Pirates, informing it of the decision.
In the letter, he said: "I am writing to confirm that the cabinet will not be taking forward the request for funding for a Stadium for Cornwall."
He said he had "strong personal support" for a stadium in the county and "have always felt that, in the absence of private sector funding, the council should consider the use of public money".
However, he added he was advised to abstain from the vote and to go with the cabinet's decision.
Mr Robertson concluded his letter by saying: "I hope that this does not finally close the door on this project."
The Stadium for Cornwall Group, which has collected thousands of signatures in support of the project, said it was "extremely disappointed" with the decision.
'End of the dream'
Outline planning permission for the Stadium for Cornwall was granted by the Conservative/Independent-led authority in November 2011.
When publishing the official stadium plan in March, the local authority said no recommendations had been made on public funding and the stadium remained a private sector-led project.
At a full council meeting earlier this month, councillors voted against looking into the possibility of providing taxpayers' cash.
The Cornish Pirates, currently in the RFU Championship, are battling for a place in the elite league but need a stadium to match.
The Mennaye field in Penzance does not meet the Premiership's minimum capacity criteria of 10,000 and the club had hoped to share the proposed stadium with Truro City and the local college.
Previously, head coach Ian Davies said: "If there is no stadium that will be the end of the dream."