Cornish alpaca TB campaigner Dianne Summers has disease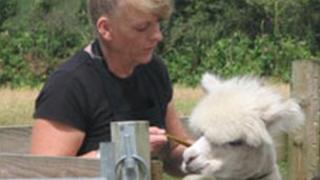 A woman from Cornwall who received an award for her campaign for compulsory tuberculosis (TB) testing of alpacas has contracted the illness.
Dianne Summers, from Redruth, had eight of the animals put down in 2008-09 when they tested positive for bovine TB.
She said she believed she contracted the disease from the animals and was undergoing nine months of treatment.
Bovine TB, which can take years to develop, damages animals' lungs and leads to death if not treated.
'Very upset'
Ms Summers received an award from the British Alpaca Society (BAS), which promotes the welfare of alpacas and llamas for the campaign.
Libby Henson, from the society, said: "We're all very upset."
She added: "Di's the member who knows the most about TB and is on the ground and gives advice to other owners who's herd have been infected, which is why this has possibly happened.
"She's quite poorly but she's started the treatment, which is quite a long process. But at least she now is being treated."
Bovine TB is believed to be primarily passed from one animal to another by breathing in bacteria.
It is a notifiable disease, which means there is a legal requirement to report it if it is present - or suspected in a herd - but there is currently no legal requirement for animals to be regularly tested.
Alpacas have little resistance to TB and can die within six months of catching it, the BAS said.
There are currently 1,500 alpaca owners of an estimated 35,000 animals registered with the British Alpaca Society.
The animals, which originally come from the high plains of Peru, Bolivia and Chile in South America, are normally bred for their wool.