Two more arrests in John Daniel Centre neglect probe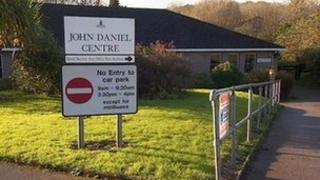 Two more people have been arrested by police involved in an investigation at a day centre for people with learning disabilities in Cornwall.
The John Daniel Centre in Penzance caters for more than 80 people.
A man and a woman, both aged 57 and from Hayle, were arrested on suspicion of wilful neglect, police said.
Two men and a woman were arrested on Monday on neglect charges. Cornwall Council said that the centre was running normally.
The centre caters for people with learning disabilities, providing on-site and off-site activities.
The arrests follow a number of staff at the centre being suspended last year.
Concerns were raised in November, resulting in the suspensions.
An internal inquiry into the centre is being carried out by Cornwall Council, and staff are to meet council officials to discuss the situation.
The corporate director for adult care and support, Kim Carey, said the situation was "obviously a shock" for the centre's users, their carers, their families, and staff; but that services had been maintained.
'Transparency needed'
She added that, despite the arrests, she did not expect to make any major changes in the immediate future.
She said: "I am satisfied that people who attended the centre have been supported over the last few weeks in a very consistent way.
"We haven't had to close the service, we've brought additional staff in."
The council said it was referring the case to the Cornwall and Isles of Scilly Safeguarding Adults Board to consider a serious case review.
Reg Broad, from the county's branch of the learning disability support charity Mencap, said that any investigation needed to be open and transparent.
He said: "I'm delighted that there could be a serious case review, as long as it's one that doesn't delay any actual lessons that need to be learned."
On Monday, a 21-year-old man from St Ives, a 22-year-old woman from Helston and a 58-year-old man from Penzance were arrested on suspicion of causing wilful neglect.
All five people arrested have been released on bail until June.