Guerilla knitters target Launceston with their art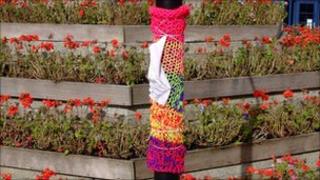 Guerilla knitters have taken to a Cornish town as part of a new craze known as "yarn-bombing".
The knitted cosies have appeared on lamposts, signposts and benches but the "craftivists" have said they want to remain anonymous.
One of the volunteers behind knitting said the idea was to brighten up Launceston and encourage people to take up the craft.
He told the BBC: "We wanted to brighten up the town with a non-offensive idea."
The practice is believed to have come from Texas, where knitters wanted to find a creative way to use their leftover wool.
The yarn-bomber who spoke to the BBC said: "People of all ages took part, they were quite up for it. We went out in disguise at night to put the knitting up.
"There's been loads of rumours around the town about who's doing it, that's what's been so great."
Launceston police community support officer Laurence Hanbrook said it was doing no harm and the police had no plans to hunt down the culprit.