Falmouth anniversary visit for RFA Mounts Bay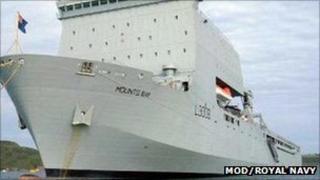 The Cornish town of Falmouth is playing host to one of the largest ships in the Royal Fleet Auxiliary.
RFA Mounts Bay will be docked in Falmouth until 9 October as part of the town's 350th charter anniversary.
The ship's main task is to supply Royal Navy warships with fuel, food, stores and ammunition while at sea.
It is owned by the Ministry of Defence, but manned by civilians and also provides an amphibious assault platform for the Royal Navy and Royal Marines.
Blue ensign
Members of the ship's crew have been invited to attend a civic service at Falmouth's council chambers, after which the band of the Royal Marines will perform a Beat Retreat.
Officers and the ship's company will host several event on board during the week and on Saturday 8 October members of the public will be invited to tour RFA Mounts Bay.
The RFA employs more than 2,000 civilian officers and ratings, and is one of the biggest employers in British Shipping.
The ships are distinguished by their grey colour and their flag - a blue ensign defaced by an upright gold anchor.