BT defends broadband service in Cornwall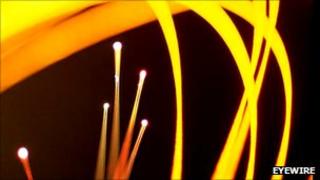 BT has defended its broadband service in Cornwall after receiving complaints from some customers.
Critics claimed that they were paying broadband prices for "dial-up connection speeds".
BT said customers in Cornwall would soon receive faster internet connections with the roll-out of a new "super fast" programme.
BT's regional manager, Michael Dunn, said "millions of pounds was being invested in the upgrade programme".
Mr Dunn said: "We are investing a great deal of money in Cornwall, probably making the largest private sector investment in the county currently.
"We have only just started, but we will be rolling out to a very large part of the county in the next 18 months."
Customers would see a "remarkable change in their service", he said.
"Painfully slow"
Daphne Butler, from St Stephen, said she was angry at the slow speed and unreliability of her BT service despite paying for a monthly broadband package.
"I would say three weeks out of four the broadband light is flashing orange, which means no internet connection," she said.
Andrea Michele, from Truro, said: "My broadband frequently drops out and can sometimes be slower than dial up."
Mr Dunn said there were many different reasons why individual speeds may be slower than others.
"The distance from the telephone exchange might be one factor. It may also be that you are sharing the service with a number of other customers."
He added that the super fast programme would increase download and upload speeds "tremendously".
Before a customer placed an order, they did have the opportunity to test the line speed before signing a contract, said Mr Dunn.