Cornwall library job cuts lead to quality fears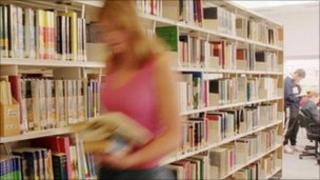 Job losses at Cornwall's libraries could lead to a drop in the quality of service, local politicians have said.
Lib Dem councillors said the council's restructuring proposals could lead to the loss of up to 19 experienced managers and a diminished service.
Cornwall Council claims it needs to make savings of around £1m which would necessitate reducing the management structure.
Stuart Roden, from the union Unison, said the proposal was "very worrying".
Lib Dem Councillor Alex Folks said the library staff "are excellent but this proposal will axe the most experienced leadership".
Mr Roden said losing experienced staff will "inevitably lead to a reduced service" and the proposals could see many of Cornwall's top library managers taking "voluntary redundancy or revised roles".
"It's good news for Cornwall that libraries are being kept open but that is being done at a cost and the people paying the cost are the staff concerned," he added.
'Worse quality'
In December Cornwall Council approved budget cuts of £170m over four years, including a 23% reduction in its library budget.
Conservative councillor Steve Double said substantial savings of around £1m need to be found within the "face-to-face" service.
Mr Double said: "I am as confident as I can be that it won't have any significant detrimental effect on the delivery of the service."
Mr Double said the council is trying to "get value for money for the people of Cornwall" and said the details are "still being worked out".
But Phil Kerridge, a former library manager from Bodmin, said library users could see "worse quality" and said the service will be "less efficient".
"If they are more under stress, they are less likely to give the great personal service which our library staff have in the past."