Bacteria causes concerns over dolphins in Cornwall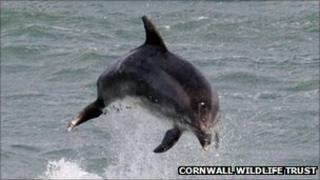 Marine experts are concerned about high bacteria levels found in bottlenose dolphins washed ashore in Cornwall.
The Marine Strandings Network (MSN) said higher than usual instances of brucella ceti had been found in mammals found over the past six years.
The Animal Health and Veterinary Laboratories Agency (AHVLA), which examined the mammals, said pollution may have caused infection increases.
It could cause reproductive problems in the mammals, the AHVLA added.
'Rarely found'
The AHVLA in Truro, working with the MSN, analysed samples from dolphins found dead on beaches over the last six years.
Scientists found that four out of eight were carrying brucella ceti, which the AHVLA said was something rarely found in bottlenose dolphins or any other species off Cornwall.
No other cases were found in 15 bottlenose dolphins found dead in the rest of England and Wales between 1989 and 2008.
Only one case was found out of 36 dolphins examined in Scotland during the same period.
The AHVLA said brucella ceti was a relatively new strain of the brucella bacteria and was only discovered in 2007.
It was possible there was a link between high instances of brucella ceti found in dead animals and polychlorinated biphenyls (PCBs), the AHVLA said.
'Strong impact'
The toxic chemicals were added to paints, cement and other industrial fluids until internationally banned in 2001.
However, they could still be found in ocean waters and were easily absorbed by dolphins if they ate contaminated food, increasing their susceptibility to infections, the AHVLA said.
The MSN said the loss of "any individuals from such a small [bottlenose] population will have a strong impact on its ability to survive".
The situation would continue to be monitored, both organisations said.
In the meantime, the AHVLA recommended that people did not swim with dolphins or touch any carcasses found on beaches "just in case", even though the risk to humans from the bacteria was "very small indeed".
Any stranded animals or carcasses should just be reported, the MSN said.