RAF St Mawgan 'safe for 25 years'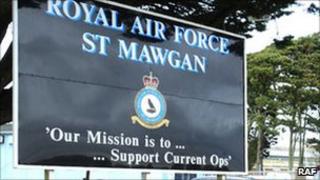 RAF St Mawgan will remain open for at least 25 years as a training base, it has been confirmed.
Local residents had feared the base was being run down after it failed to win the new Joint Combat Aircraft in 2005.
The RAF regiment then moved out, followed by search and rescue training before the site was mothballed in 2009.
But base commander Graham House said its current role as a centre for training was secure for 25 years.
He said: "We've got a funding line in defence which gives us a 25-year future with a lot of new investment in the infrastructure being developed on the unit."
An RAF spokesman confirmed St Mawgan had a "budget plan for the next 25 years".
With 100,000 people going through the gates each year, he said the base had a "very solid future".
Keith Atkinson, chairman of St Mawgan Parish Council, welcomed the RAF's pledge.
He said: "This is absolutely great news. Everybody in the community hoped it would continue.
"It's very good for the economy, but also in the long term. Many people who train at St Mawgan then come back on holiday over several years."
Special survival training is carried out at St Mawgan for military personnel.
Former barrack buildings are used as accommodation for thousands of defence personnel and cadets on the courses.