Penzance Remploy staff fear job losses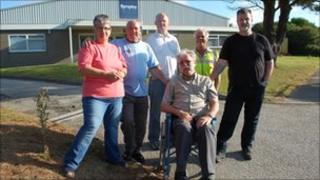 A group of disabled workers in Cornwall have said they fear losing their jobs as the government consults on the future of Britain's Remploy factories.
Ministers are considering a report which suggests disabled workers could find posts in the mainstream jobs market.
More than 30 disabled staff work at the Remploy factory in Penzance.
The factory is one of 54 left in Britain offering sheltered and safe work for people with disabilities.
The Remploy factories were set up after World War II to provide a sheltered environment for people with disabilities.
'Maximum choice'
Union representative and Remploy worker Colin Grey said that if the Remploy factory closes, he and his colleagues face a bleak future.
Mr Grey added: "It is unlikely the wider west Cornwall economy could use our skills."
The Sayce Report is recommending "support that goes with the person" by opening up the Access to Work programme so "disabled people can have the same choice of jobs as everyone else".
Liz Sayce, who is also chief executive for the Royal Association for Disability Rights (RADAR), said: "There was a consensus amongst disability organisations that segregated employment is not the right model for the 21st Century."
Every Remploy job is subsidised by the taxpayer and the government is considering the idea that the subsidy could be phased out of segregated employment.
Minister for Disabled People Maria Miller, launching the consultation, said: "The Sayce Review put forward a number of recommendations about how this money could be better used, to support thousands more disabled people, giving them maximum choice and control over the services they receive."
The Department for Work and Pensions said no decision had been made and that the consultation period would continue until October.