Cornwall Council holds bus service crisis meeting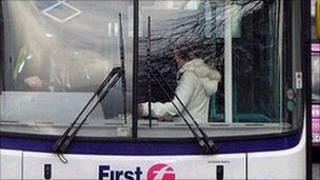 Cornwall Council is holding a crisis meeting with bus operators to try to find a compromise over a shortfall in funding.
The council has said it can no longer subsidise concessionary bus fares after a 30% reduction in government grants.
Graham Hicks, the councillor in charge of transportation, said that "it may well mean some bus routes closing".
Bus company Western Greyhound said it feared it would be "disastrous for the people of Cornwall".
Western Greyhound managing director Mark Howarth said when initial cuts were introduced last year, the company sat down with the council and found savings for them.
He said: "At that stage they said their budget stacked up and we therefore find it very strange that there is this amazing shortfall and I think questions needed to be asked to find out why."
In November 2010 the council set its emergency budget in a bid to save £170m over the next four years.
Mr Hicks said: "We've got to be realistic and they have got to understand that we have suffered these large cuts."
Western Greyhound operates 72 routes in the county and Mr Howarth said they were "already preparing de-registration for 17 complete routes that we will take out".
"We are talking about routes in north Cornwall, west Cornwall, Torpoint, and even some city routes. It's right across the board, seven days a week," he said.