Increase in Cornwall's homeless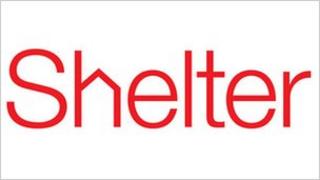 Figures show the number of people approaching Cornwall Council for help with re-homing has gone up by a third in a year.
The charity Shelter claimed this number will increase further because of government changes to housing benefit.
More than 250 people went to Cornwall Council seeking help between January and March this year.
The local authority said it only has a legal duty to help the most vulnerable and those who unintentionally became homeless.
Shelter area manager for Devon and Cornwall Ian Byworth said: "The changes to housing benefit means there will be more people having to top up their rent if they can afford to, or face falling into rental arrears."
The charity Crisis said the statistics show that the number of people becoming homeless because of the ending of a private tenancy is rising.
The organisation is also concerned about the rise in the number of households being placed in bed and breakfast accommodation.
Thousands of families across the UK have been affected by changes to housing benefit which reduced the amount of money available to some claimants.
Cathy Hadfield, the assistant head of housing at Cornwall Council, said: "We will aim always to prevent homelessness wherever we can, but where that can't be avoided we will then have to make certain inquiries to satisfy ourselves that applicant is homeless within the meaning of the legislation, has not made themselves homeless intentionally, and that they have a local connection."
Mrs Hadfield admitted she was expecting the pressure on the service to increase but stressed the department would continue to do all it could to prevent homelessness in the first place.
Mr Byworth said changes to Legal Aid meant that when people faced housing problems it would be more difficult to get legal advice to prevent homelessness.