'Beast of Bodmin' sighted at Trewithen Gardens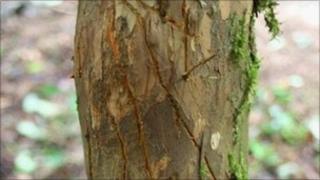 A large black cat-like creature sighted at gardens in Cornwall could be the so-called Beast of Bodmin, according to a head gardener.
Strange claw marks an inch thick have also been found on the bark of a shrub at Trewithen Gardens near Truro.
Head Gardener Gary Long had a glimpse of a "very large black cat-like creature" and now believes it could have been the 'Beast'.
He is unworried by their encounter believing it must be a timid creature.
Mr Long said his view of the creature was so fleeting "he thought nothing more about it".
But he later discovered one of the garden's rare plants showed clear signs of claw damage.
'Claw marks'
Inch thick bite marks on the lower branches of a Clethra barbinervis, a Japanese shrub with long fragrant blooms, were found broken and the bark chewed off.
The main trunk had been scarred by claw marks up to a height of five feet.
Mr Long said: "It's bizarre. I've never seen that kind of damage to a shrub.
"The marks on the trunk are too fine to be dog claws, too high to be a domestic cat and too big to have been made by anything smaller.
"I'd thought nothing of it at the time other than to be a bit surprised to see what I was sure was a black cat but seemed more the size of a dog.
"Now I'm wondering if it was the Beast of Bodmin or one of its relations."
Mr Long is not worried by his encounter and says whatever the 'Beast' is, it is clearly a timid creature that shies from human contact.