Social care spending concerns in Cornwall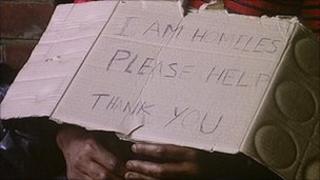 There are warnings that cuts in the adult social care budget in Cornwall will lead to significant levels of hardship.
Care home fees have been frozen and there is reduced funding for day care centres and respite care.
Supporting People projects such as homeless centres have faced 40% cuts.
New research carried out for the BBC across local councils in England suggests a divided country when it comes to spending on social care.
Cornwall is one of the lowest spenders on Adult Social care in England.
St Petroc's Society has 42 beds for single homeless people across Cornwall, two resource centres and outreach workers.
In the past it received more than a third of its budget from Supporting People funds.
Steve Ellis, from the homeless charity St Petroc's Society, said there will be long-term effects from the cuts.
"It's virtually an impossible situation whereby you lose the money and you're expected to maintain the standard and the same extensive service.
"So you're looking to find some compromises along the way. You're not going to get exactly the same as before."
There have been redundancies among the staff and although none have been compulsory, Mr Ellis said he was worried about the future.
"Major Mess"
Frank Donaldson was helped by St Petroc's when his life spiralled out of control.
"Places like St Petroc's and New Connection, they need the money, because if they don't have the money, they will eventually close down and there will be more people on the streets," he said.
"People will not know who to turn to. It will be a major mess."
Cornwall is traditionally one of the lowest spenders on Adult Social care in England and services have in the past been ranked among the worst in England.
The budget is facing a cut in real terms this year after the scrapping of a planned £4 million uplift.
Cornwall Council's cabinet member for Adult Care and Support, Armand Toms, said: "This next 12 months will be difficult. But we will meet those needs of the people with criticial and substantial needs.
"They are the real vulnerable people in Cornwall and they're the people we must pay the most respect to."
Cornwall Care is a charity which runs 18 care homes throughout the county.
Douglas Webb from the charity said: "In the past two or three years we haven't had to make any redundancies and we haven't had to cut our training budget too much.
"We've managed to take the efficiencies out of the business. We can't sustain that, absolutely not."
The research, carried out with the Chartered Institute of Public Finance and Accountancy (CIPFA), mapped local authority spending on services following the Spending Review. The review last October cut local authority funding by 7.1%.