Report criticises heritage sites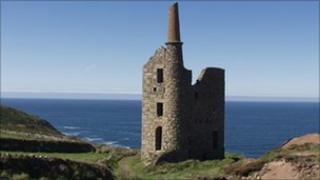 Cornwall and west Devon's world heritage sites have been criticised in a report by a travel website.
TripAdvisor says the mining landscape is in greater "need of attention" than any of the UK's other 27 world sites.
The two countiess won the coveted world heritage classification five years ago, sharing the title with landmarks including the Taj Mahal.
The report also said the mines were among the top 10 most popular world heritage sites in the UK.
Sally Wilkey, a resident in St Just, west Cornwall, said: "A lot of the mines are overgrown but I think they are beautiful.
"They're not pretty places mines, they are where people worked and died."
Chris Goninan, a Cornwall councillor who lives at St Just, said the heritage sites did need more attention.
"I remember when Dorset became a world heritage site. I asked them what impact it had on visitor numbers, and they were saying one to two percent.
"We get five-and-a-half million visitors in Cornwall each year. If we add another one to two percent that would have a considerable impact on the economy."
'Culturally distinctive'
Deborah Boden, the co-ordinator of the world heritage site in Cornwall, said: "We've done a lot with constrained resources, through partnership working with a whole range of different people.
"We've got a really positive working with Visit Cornwall who have been extremely supportive."
TripAdvisor's survey claims many respondents who stayed near the sites had no idea of the importance of the area, because of a lack of signage.
Ms Boden said the mining heritage team was working to address this issue.
"What we're talking about here is not a single monument, it's 10 different areas stretching from Tavistock to St Just. You have got nearly 20,000 hectares there.
"What we have to analyse is where do you really need a sign to know you're in a world heritage site, and to know how to find the next place you may be aiming for?"
Globally there are 911 world heritage sites. The status requires the world mining heritage team to ensure what people experience about Cornish or Devon mining is "authentic, accurate and culturally distinctive".