Student protest closes Truro city centre route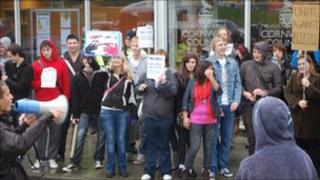 Police closed a main route into Cornwall's only city as more than 100 students carried out a protest march.
The A390 in Truro was closed while protesters walked from Truro College on the city's outskirts to County Hall.
As well as the Truro march, another group of 40 people protested at the Tremough Campus of the Combined Universities in Cornwall at Penryn.
Another protest was held in Falmouth. The marches were against government plans to increase tuition fees.
Under the government proposal, the level of tuition fees at English universities would increase almost threefold to up to £9,000.
The spending cuts will also mean that government funding for university teaching budgets will be withdrawn from many subjects, particularly in the arts and humanities.
Protests are being held across the UK.
One of the students at the Tremough protest, Robert, from Birmingham, said those taking part were doing so because they were concerned that "university was turning into a finishing school for the wealthy".
He said: "A lot of people from Cornwall - and from my region, Birmingham - we can't afford this. It's frankly unfair."
The government said the reforms were fairer than the present system and more affordable for the nation.