World Pea Shooting champion Rob Bresler retains title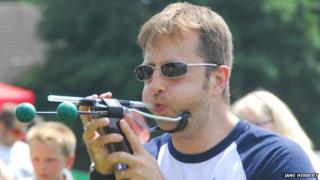 A pea shooter managed to defend his title at the 44th World Pea Shooting Championships in Cambridgeshire.
Rob Bresler, from Haddenham, saw off 61 opponents, the second largest entry in the championship's history, to win the men's title in Witcham.
It is the third year in a row he has won the contest, which started in 1971.
Michelle Berry, a local resident, lifted the women's title while the junior section was won by Martha Collins, from Haddenham.
The competition raised £2,500 for Witcham village hall.
Pea rules
The World Pea Shooting Championships has a strict set of rules.
•Competitors' blowpipes must be 30cm (12in) in length
•Only peas provided by the official organisers may be used
•Competitors must stand 3.5m (12ft) away from the putty target
•Laser sights may be used to aid accuracy
•Anyone can enter but only the top 16 scorers go through to the final