Cambridge Waitrose Tour de France 'local event' sign changed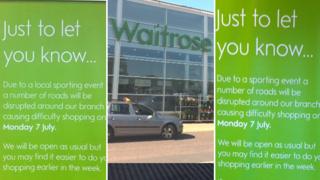 A Cambridgeshire supermarket criticised for putting up a sign referring to the Tour de France as a "local sporting event" has removed the word "local" after admitting it was "not right".
Waitrose put the sign in its Trumpington branch warning shoppers of extra traffic during the 7 July race.
It was removed on Monday and put back with amended wording.
A spokesman said the first sign "wasn't the right way to describe an international sporting occasion".
Asked why the "event" had not been referred to as the Tour de France, the spokesman added: "There is no reason."
Le Tour, the world's biggest cycle race, goes through the city on Monday and tens of thousands of people are expected to watch it.
The store put the sign in its entrance last weekend, warning customers the race could affect their shopping plans.
Waitrose's parent company is John Lewis, which has the slogan "never knowingly undersold".
The supermarket was criticised for underselling the importance of the Tour de France, by councillors and cycling enthusiasts.
Mick Draper, president of the Cambridge Town and County Cycling Club, said: "It's totally the wrong way to describe it.
"It's an international event that's been all over the world, so you can't call it a local event."
A spokeswoman for Waitrose said: "We have now amended the sign and we're very sorry that we got it wrong."
The third stage of the Tour de France 2014 starts in Cambridge and travels 155km (96 miles) to London.