Godmanchester 'Jesus scarecrow ' is 'clever and challenging'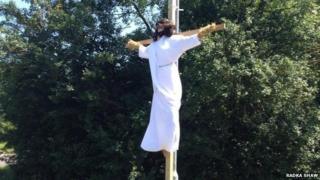 A "Jesus on the cross" scarecrow removed from a lamppost after online complaints is "clever and challenging, but not offensive to me", the town's Baptist minister has said.
Radka Shaw made it for Godmanchester's musicals-themed scarecrow festival to represent Jesus Christ Superstar.
The Rev John Smith said: "It's making people think but isn't dividing them.
"One person chose Sweeney Todd, and he's a murderer. Radka chose one of the good guys."
More than 200 people commented after Mrs Shaw put the scarecrow on a lamppost on Stokes Drive, near the Cambridgeshire town's cemetery, and posted photographs of it online.
Comments on Godmanchester Living's Facebook page ranged from "horrified" and "offensive" to "awesome" and "it's only a scarecrow, calm down".
Mr Smith, whose house is "30 steps away", said he saw the scarecrow on his way home from church.
"It's fair to say we were surprised and shocked, but not in a bad way," he said. "It was an unexpected thing to see."
Mr Smith said he understood why some people had reacted the way they had.
"The Crucifixion is a very graphic and challenging image," he said.
"I think this scarecrow is a very clever idea and it's certainly challenging us all to think. In fact, I think it's one of the classier and more sophisticated ones in town.
"You know, our world may be broken in many ways, but Godmanchester isn't going to be broken by a scarecrow."
Mrs Shaw removed the scarecrow after festival organisers told her council regulations prohibited items being put on street lights.
She said she had "resurrected" him closer to her own property, although that location meant fewer people would be able to see it.
"There was never any intention to upset or offend anyone," Mrs Shaw said.
As a Christian family, she said the musical Jesus Christ Superstar "was an obvious choice".