Queen's Birthday Honours: MBE for ex-policeman 'bursting with pride'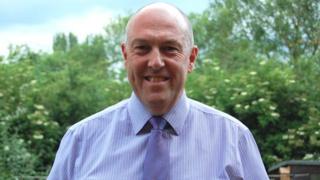 Knowing he was to be recognised in the Queen's Birthday Honours list was "the hardest ever secret to keep", a former Cambridgeshire police officer said.
Stephen Selves, 56, a retired detective chief inspector from Peterborough, was appointed MBE for services to charity.
He said he was "bursting with pride" after being recognised for more than 25 years' of fundraising challenges.
Others honoured in the county include a night shelter volunteer, university academics and medical experts.
Hospice garden
Mr Selves' first fundraising efforts were for BBC Children in Need, and since then he has raised more than £115,000 for the MS Society, the Fire Service Benevolent Fund, DeafBlind UK, and many others.
However, the most rewarding, Mr Selves said, was when he and fellow off-duty police officers helped to create a sensory garden for East Anglia's Children's Hospices in Milton.
"One of our colleagues turned up in a police car, and a little boy at the hospice got very excited," Mr Selves said.
"He told us he wanted to be a policeman when he grew up.
"His mother whispered, 'He isn't going to grow up'.
"We took him for a ride in the police car and I'll never forget how thrilled he was. I cry when I talk about that."
Others honoured in Cambridgeshire include a Knights Bachelor for Professor David John Spiegelhalter, OBE, FRS, Winton Professor for the Public Understanding of Risk at the University of Cambridge, recognised for services to statistics, and an MBE for John Leonard Anthony, from St Ives, the regional project director of the London Fire Brigade, for services to the fire and rescue service.
Jacquelyn O'Doherty, a volunteer at Jimmy's Night Shelter in Cambridge received the British Empire Medal (BEM) for services to the community in Cambridge, and Dr Sarah Coppendale received the BEM for services to the community in Shelford.