Cambridgeshire bee vandal kills "thousands" in hive attack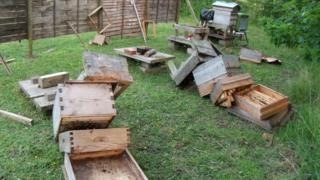 Police are searching for a bearded man with a number of bee stings who may have "potentially killed thousands of bees" in Cambridgeshire.
Four hives were vandalised on Sunday evening at a site on The Avenue, in the town of March.
Officers described the act as "reckless" and are looking for a grey-haired, bearded man in his 60s wearing a blue baseball cap and a blue anorak.
A number of bees were killed and much of the honey was lost.
PCSO Rachael Chelverton, from Cambridgeshire Police, said: "It is likely the offender would have been stung during the incident and I would urge anyone with any information to call police."