Cambridge vicar banned after sex allegations are made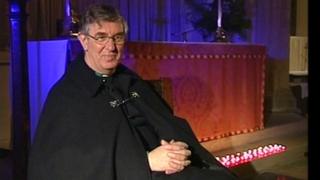 A senior vicar has been banned from conducting services and has resigned as a Cambridge University academic after complaints about his relationships with vulnerable young men in his care.
The Rev Canon Dr Fraser Watts has stood down from Trinity Hall and been banned from officiating by the Diocese of Ely.
The BBC understands complaints include some of a serious sexual nature.
Cambridgeshire Police said: "We are aware of a potential safeguarding matter and we are looking into it."
A spokesman said the force had not received any complaints.
Spiritual support
Dr Watts was vicar-chaplain at St Edward King and Martyr in Peas Hill, Cambridge, which is run by Trinity Hall, the university's fifth-oldest surviving college.
A number of vulnerable young men who sought his pastoral and spiritual support have made complaints about him.
Sources told the BBC Dr Watts was ordered to resign from the university or be sacked.
It is understood he was escorted from Queens' College, where he was a fellow and reader in theology and science.
In a statement, a spokeswoman for the Diocese of Ely confirmed there was an "ongoing safeguarding investigation", and that it was "working in close partnership with police and other agencies".
'We're still reeling'
The statement added: "The diocese takes seriously its responsibilities and obligations under national Anglican safeguarding policies and until all inquiries within the investigation are fully and properly completed, we are unable to comment further."
A University of Cambridge spokesman said: "There is a safeguarding investigation instigated by the Diocese of Ely and that investigation has not concluded yet.
"The university is co-operating with the church."
The spokesman said Dr Watts was no longer with the university in any capacity.
In a newsletter, acting vicar-chaplain of St Edward's, Dr Malcolm Guite, told churchgoers: "I'm conscious that we're all, including myself, still reeling from the shock of Fraser's sudden resignation.
"It is understandable that people would like to know more about the reasons for that resignation, but I am sure that, when it is possible, we will know them."
'Unaware of concerns'
The BBC has learned that the Diocese of Ely received a complaint against Dr Watts four years ago.
Police investigated but there was insufficient evidence to proceed further.
It is understood Dr Watts was told not to provide pastoral support to young men, but his close colleagues were unaware of safeguarding concerns.
The complaints currently being investigated have been made since then.
At his home in Cambridge, Dr Watts declined to answer any questions about the complaints made against him.
He said he would not comment while the safeguarding investigation was taking place.