North Bank: Barriers to be installed 'as soon as possible', council says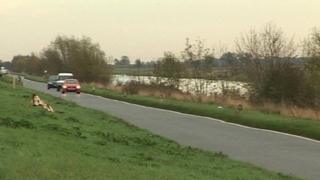 Barriers are to be constructed along part of a Cambridgeshire road after two deaths and five other accidents in the space of five weeks.
The 0.5-mile (0.8km) North Bank road near Whittlesey has become a notorious accident blackspot with campaigners calling for improved safety measures.
Peterborough City Council carried out tests to see if barriers were possible.
A spokesman said an 820 ft (250m) barrier would be installed "as soon as possible".
On 3 November, Hannah Yates, 18, died after her car left North Bank and plunged into the River Nene.
Her father, Phil Yates, joined members of the Fenland Road Safety Campaign calling for barriers to be installed on the road.
'Bitter-sweet victory'
Following the discovery of the body of Keith Pettitt, 50, of Deene Thorpe, Corby, in the river on 2 December, council engineers began carrying out safety tests along the stretch.
The speed limit was temporarily cut from 60mph to 40mph "as a precaution".
Mr Pettitt's accident was the sixth reported on North Bank in the space of six days. No-one was seriously injured in the other five incidents.
The council closed the road earlier to carry out further tests and have now confirmed it is suitable for safety barrier installation.
Simon Machen, director of growth and regeneration, said "Our ground condition tests have confirmed that we can install barriers along the bend in the road and we are now working to install a scheme as soon as possible.
"The barrier will be around 250 metres long and will cost in the region of £50,000. This will be a standard safety barrier used on roads across the UK."
The reduced speed limit would remain in place in the meantime, he said.
Graham Chappell, chair and organiser of the Fenland Road Safety Campaign, who has been campaigning for barriers since 2008, described the news as a "bitter-sweet victory".
"It was unthinkable that we wouldn't succeed, but then again, it is unthinkable that it's taken this long for us, and other campaigners, to succeed," he said.
"Our profoundest regret is it hasn't come soon enough to save the lives of Hannah Yates or Keith Pettitt."