Peterborough Bourges Boulevard to become 'real boulevard'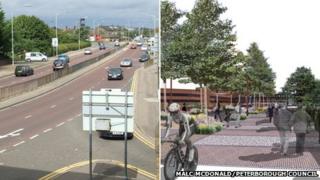 Bourges Boulevard, a busy dual carriageway which has "never really been a boulevard", could finally become one under new plans for Peterborough.
The city council wants to spend about £4.5m widening the central reservation and adding trees and new crossings.
Changes to the junction at the railway station are also included.
The council hopes the scheme, funded partly by government and developer contributions, will "create a proper gateway" into Peterborough.
The plan includes planting 30 100ft (30m) London plane trees along the widened central reservation and creating two 33ft (10m) wide pedestrian crossings between the Crescent Bridge roundabout and Bright Street for pedestrians and cyclists.
'Potential gridlock'
Marco Cereste, Conservative leader of the council, said it was "about time" the road, built in the 1970s, was "sorted".
"With [a new] Waitrose moving into the station quarter we can afford to do this... and do it really, really well," he said.
Peter Lee, chair of Peterborough Civic Society which "safeguards the city's heritage and encourages good design", said he was largely in favour of the plans.
"Bourges Boulevard has never really been a boulevard," he said.
"To me, a boulevard should be a road with trees, and it's never had them, so it will be good to improve the accessibility on foot into the city centre and make it look better."
However, he said the council had "not communicated the proposals well" and questions needed to be asked about "potential gridlock" on surrounding roads.
Mr Cereste said new traffic lights, a slip road and a new right-hand turn out of the station would mean there would be "no backing-up on the boulevard".
"Our engineers and experts tell us there is not an issue," he added.
Work is expected to begin in March.