Cambridge baby brain research unit opens at the Rosie Hospital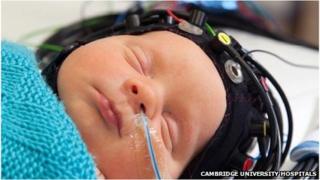 A new centre dedicated to studying brain development in newborn babies and assessing those at risk of brain damage has officially opened in Cambridge.
The Evelyn Perinatal Imaging Centre, at the Rosie Hospital, is equipped with non-invasive optical imaging scanners, research facilities and a laboratory.
The centre's Dr Topun Austin said the unit could help babies deprived of oxygen or blood flow during delivery.
"These infants can experience lifelong neurological problems," he said.
"These facilities help us identify babies at risk of long-term brain injury and better understand how they respond to different treatments," Dr Austin, a consultant neonatologist at the Rosie, added.
'At-risk babies'
"To date we've been very good at looking at what the brain looks like in terms of structural brain imaging.
"This new centre is about trying to understand how the brain works... as well as what it looks like."
The centre is close to the maternity hospital's neonatal intensive care unit, birthing suites and postnatal wards. As much of the equipment is portable, staff can monitor sick babies at their bedside, rather than moving them to another unit.
"The goal is to identify those infants who are most vulnerable of injury and problems later in life, and also look at the response to treatments we're developing on the intensive care unit and see how those treatments affect brain development," Dr Austin said.
"By getting a handle on how the brain is working, we'll be better able to predict those babies who are most at risk."
The centre was funded by a grant from the Evelyn Trust, a charity which supports medical research and healthcare in Cambridgeshire.