Cambridgeshire parish council tells pensioner 'not to talk' at meetings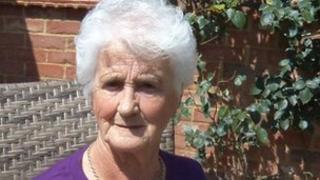 A 78-year-old woman has been told "not to talk" at future council meetings after a claim her "continuous talking" disrupted a freedom of speech debate.
Pat Nicholls received a letter about her "conduct" from the Shepreth Parish Council chair in Cambridgeshire.
"Everyone was talking, not just me, and the councillors were arguing with each other," Mrs Nicholls said. "I don't know why I was singled out."
She said the letter was "threatening". The chair was not available to comment.
Councillors were discussing recent publicity about a freedom of speech issue when a debate erupted at the meeting on 11 July.
'Bunch of kids'
Earlier this month Jonathan Butler, editor of the Shepreth newsletter, published an open letter saying "freedom of speech" was at stake following a request from the parish clerk to check the "accuracy and content" of any comments in the magazine concerning the council.
Mrs Nicholls said: "The councillors were all shouting. It was an absolute fiasco, then one man told them they were behaving like children."
Earlier this week, Mrs Nicholls received a letter from the chair of the council, Donna Thomas, "in respect of conduct at parish council meetings".
It read: "At the last meeting you blatantly refused to be quiet, which gave me no alternative but to close the meeting."
'Silenced or excluded'
It concluded: "I would therefore ask that you not talk, except during the public forum.
"Should you continue... I shall have no alternative but to propose a motion that you be... 'silenced or excluded'."
Mrs Nicholls said she was "appalled and upset" by it.
"I do like to talk during the public forum, which is allowed," she said.
"Sometimes I have to talk because my husband is a bit deaf, and some councillors mumble so he asks me what they are saying," she said.
Jimmy Jordan, another resident at the meeting, claimed his own outburst was the reason for the meeting's closure.
"They were all arguing with each other so I stood up and shouted, 'Can you lot shut up? You're behaving like a bunch of kids in a school yard', then Donna said she was closing the meeting."
Mr Jordan said he was now waiting for his own letter from the chair.