Peterborough Royal Mail workers return to work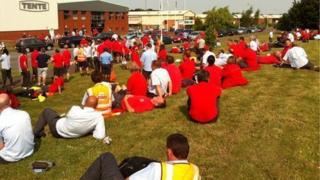 Postal workers at a Cambridgeshire sorting office have returned, ending their wildcat strike.
The Communications Workers Union (CWU) said about 170 delivery and sorting staff walked out of the Werrington office in Peterborough on Friday.
The unballoted strike was triggered by disciplinary action against one member of staff.
Royal Mail said staff returned to work at 06:00 BST following talks between the union and managers.
The sorting office covers deliveries in the PE1 and PE3 to PE6 postcode areas.
Royal Mail spokesperson Sally Hopkins said: "We'd like to apologise to customers for the recent disruption to service as a result of the unballoted industrial action taken by the Communication Workers Union over the last few days.
"We're doing all we can to return all services to normal as quickly as possible."
Andy Beeby, branch secretary for CWU, said the union also apologised to customers.
"No-one takes industrial action lightly, as people don't want to lose money, but this case was something the members felt they had to do and the issue has now been resolved," he said.
"Managers have agreed that no one will be disciplined as result of this action."