Ely Cathedral's flower festival draws 20,000 visitors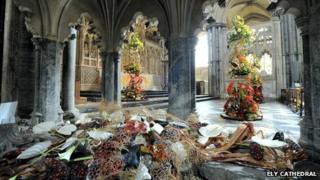 Ely Cathedral's first flower festival for 15 years attracted "just shy of 20,000 visitors" in its four-day run, church officials say.
The Very Rev Mark Bonney, dean of the cathedral, said it was "nearly double" the number of visitors hoped for and he was "immensely proud".
The festival took a year to prepare and included 80 floral arrangements depicting the creation of the world.
The cathedral said it was unlikely to hold another festival before 2015.
The exhibits were designed by East Anglian flower arranger Roger Woolnough, a gold medal winner at both Chelsea and Hampton Court flower shows.
Dean Bonney said: "I don't know what the budget for the festival was but we should have made a significant amount of money - we should know how much in a week or so.
"We attracted just shy of 20,000 visitors - nearly double the number we were hoping for."
More than 220 arrangers from 38 flower clubs from the diocese worked on the festival.
"It was a tremendous team effort across the board and I am immensely proud of what people have achieved," added Dean Bonney.