Cambridge University development: Work starts on £1bn scheme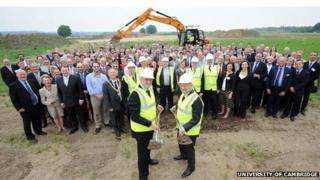 Work has started on a £1bn project for new research facilities and accommodation at Cambridge University.
It was hailed by Vice-Chancellor Professor Sir Leszek Borysiewicz as the largest single capital development in the university's 800-year history.
"It will provide the environment and facilities vital to attracting world-class researchers," he said.
The development will have 3,000 homes with 50% for key workers, university and college staff.
Another 2,000 bed spaces will be provided for post-graduate students, with a local centre and public amenities.
Phase one of the development is expected to cost some £280m with the scheme in its entirety estimated to cost £1bn, Sir Leszek said.
The first buildings in phase one will be completed from late 2015.